Innovative Commercial Floor Mats
Founded in 1986 in Algona, Iowa, Matting By Design sets new standards in commercial floor mats. Our proprietary process, innovative technology and high-quality materials combine to create customized floor mats in any size, style, or shape. You won't believe the beauty, quality, and performance beneath your feet, all backed by the best warranties in the business.
Enjoy our video to see for yourself!
FIND THE RIGHT COMMERCIAL FLOOR MAT CUSTOMIZED FOR YOUR NEEDS
Every floor mat we produce gets its backing from our innovative, proprietary process that keeps your mat at peak performance—in place, free of mold and mildew, and in any size or shape you can imagine. We invite you to review our product line of branded floor mats and non-logoed options.
When you add a custom entry mat to your entrance or protect high-traffic areas with a logo mat designed especially for your business, Matting By Design helps reinforce your brand while keeping dirt and debris out of the way. Adding your logo to your floor is not only attractive, it's also a good investment.
Matting By Design offers different options for high-traffic areas, wet area floor protection, and more. Whether you need a wet-area floor mat to keep your flooring dry or a logo mat to enhance the look of your property, you won't find higher quality or better-looking custom entry mats. And with our unique backing, your logo floor mat will be slip resistant and protect your floors from dirt and debris for years to come.  
Our Premier Image® mats bring an upscale look to your business and represent your brand with pride and craftsmanship.
ULTRA Dry® PCR PET branded floor mats offer quick-drying for heavy‑traffic areas and can be customized with your logo.
The SaharaMat® is a quick‑drying commercial floor mat, perfect for damp environments or light‑traffic areas.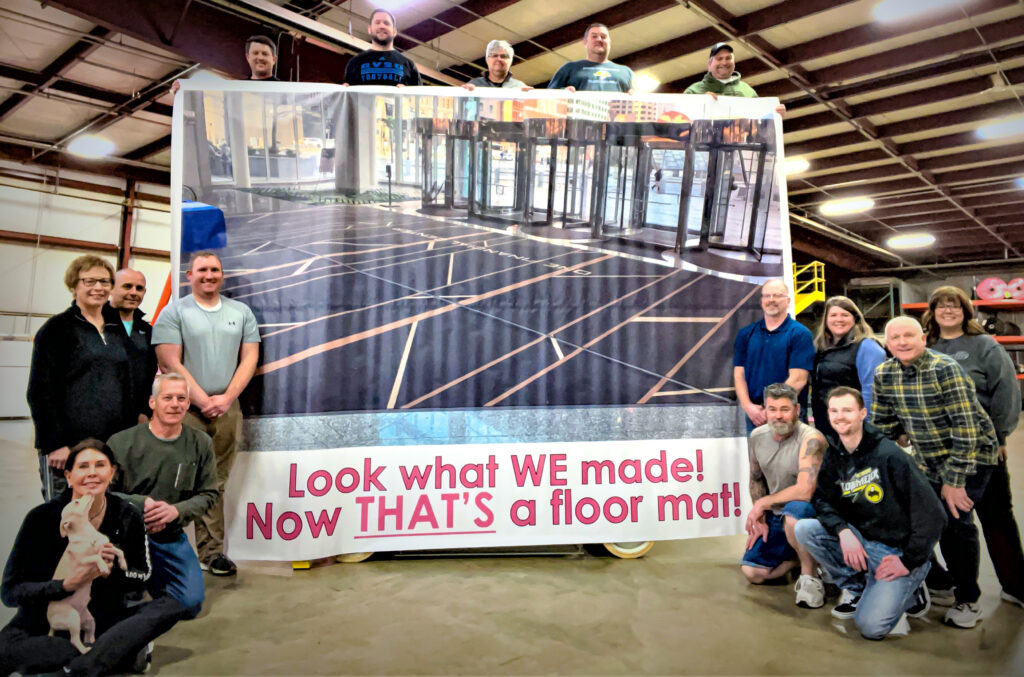 Celebrating
33 Years
Of Imagination At Your Feet
Your mats are in a class by themselves. I've been in this business for quite some time and yours are by far the best ones we have purchased or seen. They're worth every penny. Ours are over 9 years old and it's just now time to look at replacing them.
– Lynne Lehrer, D.L. Clark Building, Pittsburgh